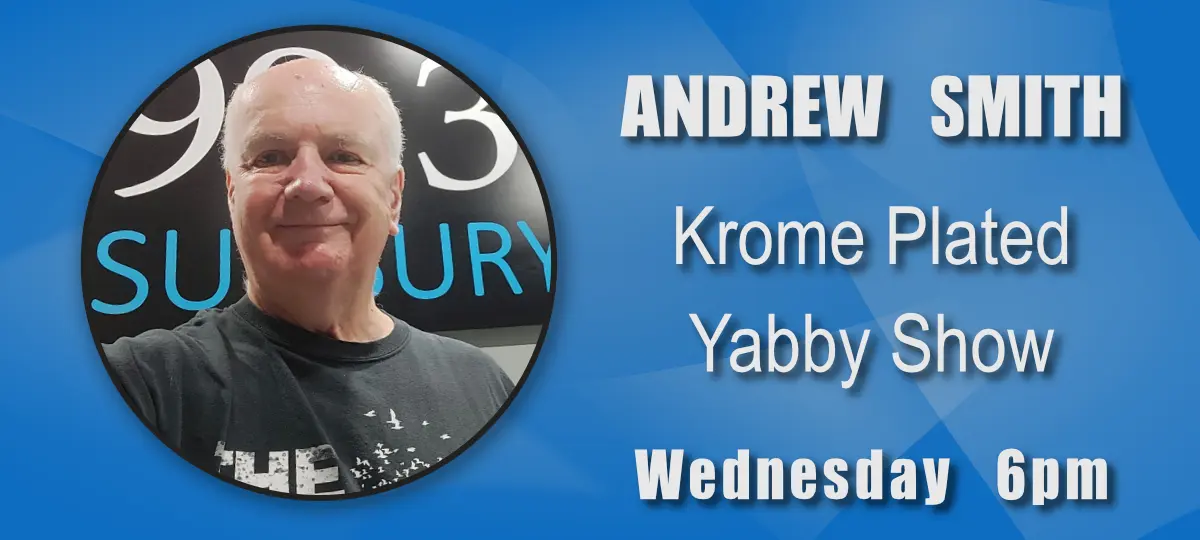 Tell us about yourself
I am a passionate supporter of live Australian music. I grew up watching the Go Show, GTK, Kommotion & Happening 70 featuring great Australian bands such as The Easybeats, Masters Apprentices, Zoot & The Valentines.
I started attendings gigs in the early 70s when Billy Thorpe & the Aztecs, Lobby Loyde & the Coloured Balls, Band of Light, Carson, Chain, Spectrum and many more reigned supreme.
I attended Sunbury '73 & '74 when Australian music really came of age. Since then I have absorbed everything Australian music has presented.
I've played bass in a number of bands playing the 60's & 70's music I love, including more than 20 years with The Ripchords. I now organise and perform at the first Sunday of the month 60's & 70's jam sessions at Sound System Studios, Sunbury.
I'm an avid music collector, and before retiring I worked in education, including teaching for nine years at Sunbury Downs College.
Tell us all about your show
The Krome Plated Yabby Show takes its title from a song the legendary Lobby Loyde wrote for the Wild Cherries in the 1960s.
The title was a throwaway line from the band's roadie who, when asked what he thought of the new song, said the untitled song sounded like a "krome plated yabby".
The title of my show not only reflects this great era in Australian music, but also pays homage to the enormous contribution Lobby Loyde made to Australian music as it came into its own in the 1970s.
For two hours each week the Krome Plated Yabby Show presents the very best in Australian rock music. With its roots firmly in the 60s and 70s the show also showcases new original Australian music, including local Sunbury musicians.
Guests are regularly invited to talk about their music and play live in the Sunbury Radio studios (see below for a list of guests who have appeared in the show).
What's your all-time favourite album?
Very hard to pick just one, but some all-time favourites include The Rolling Stones' Get Yer Ya-Yas Out, The Masters Apprentices' Choice Cuts and Band of Light's Total Union.
Do you play a musical instrument?
I play bass guitar, with more than 20 years with The Ripchords, and now organising and performing at the monthly 60's & 70's jam sessions at Sound System Studios, Sunbury.
What's your favourite movie or TV show?
The cult British TV series The Prisoner and anything Monty Python, especially Life Of Brian.
What's your advice to those thinking of volunteering at Sunbury Radio?
Get involved! Sunbury Radio is a fantastic community asset. It needs new voices if it wants to continue to evolve and support the ever growing and diverse Sunbury community.
Social media
Follow the Krome Plated Yabby Show on Facebook.
Guests that have appeared on the Krome Plated Yabby Show include:
Mike Rudd (Spectrum / Ariel)
Mick Fettes (Madder Lake), Mick Pealing (Stars / Spaniards)
Ross Wilson (Daddy Cool / Mondo Rock)
Reg Mombassa (Mental as Anything / Dog Trumpet)
Jim Keays (Masters Apprentices)
Keith Potger (Seekers)
Russell Morris
Sherry Rich
Jan Preston
Martin Cilia & Jim Skiathitis (The Atlantics)
Ben Rogers
Dave Warner
Matt Taylor & Phil Manning (Chain)
Gil Matthews (Billy Thorpe & the Aztecs)
Liz Stringer
Van Walker
Billy Miller
Ross Ryan
Glenn Shorrock (The Twilights / Axiom)
Ken Murdoch (Taste)
Ian Macausland (album cover designer)
Tony Durant (Fuschia / Dave Warner)
Nick Barker
Marcie Jones
Tex Perkins
Ash Naylor (Even, Paul Kelly, The Church)
Dom Mariani (The Stems/ Datura4)
Kim Volkman
Tim Rogers & Davey Lane (You Am I)
Mark Tinson (Rabbit/TMG)
Ian McFarlane (writer)
Dan Warner
Jordie Lane
Kevin Borich (La De Das)
Rockbottom James
John Dowler
Jeff Lang
Alison Ferrier
Richard Burgman (Sunnyboys/Saints)
Judy Small
Kutcha Edwards
Delsinki
Dave Faulkner (Hoodoo Gurus)
Link Meanie
Hugo Race
Paulie Bignell
Ezra Lee
Dizzy Davidson
Clinton Walker (writer)
Pauline Bailey (writer/artist)
Stef Duzel
Matt Joe Gow
Kerryn Fields
Linda Bull
Kim Cheshire
Lachlan Bryan
Joe Camilleri
Michael Waugh
Wanita
Shane O'Mara
Jeff Duff (Kush)
Chris Lofven (Campact/ film maker)
Adrian Anderson (stage manager)
Coxy (LRB/Bootleg Family)
Brian Cadd
Dave Arden
Bob Spencer (Finch/Skyhooks/Angels/Rose Tattoo)
Tracey McNeil
Freya Josephine Hollick
Steve Lucas (X)
Nick Charles
Bobby Valentine
Charles Jenkins
Darren Hanlon and many more.